VETERANS DAY 2020 - PRISONERS OF WAR
Bruce's Beat 11-6-2020
The lockdown earlier this year allowed me to catch up on reading. Among the books I read were two autobiographical accounts of two men who served our country and were captured and made prisoners of war. One was from the Civil War and the other from the Korean War. Despite the differences of nearly 90 years and one war fought here in the States and the other in Asia, there were some remarkable similarities between the two men and their experiences. Part of the reason I read their books was due to the fact that they were both New Testament Christians.
John Vaughter served (1838-1897) in the 4th Kentucky Regiment in the Calvary in Sherman's army. In July of 1864 his unit was sent on a raid to get behind Confederate troops defending Atlanta. Vaughter's unit was poorly led and they became surrounded and were forced to surrender. Vaughter was taken to the notorious Andersonville Prison camp in South Georgia. In a small, swampy enclosure more than 30,000 prisoners were crowded together in a space designed for about 1500 men. Self-made lean-to shelters gave little protection from the heat of the summer and the cold of the winter. Prisoners lay with wounds untreated. Rations were limited and poor. If you have never seen any photos of Andersonville survivors, all you have to do is look at a picture of Nazi death camp survivors. The pictures are the same, as you see human beings who were slowly being starved to death. At one point, Vaughter and some other prisoners were being transferred to another camp. During the transfer on open railroad flat cars, the prisoners were unchained and those on the edges sat with their legs dangling over the sides.. Vaughter and the man next to him jumped from the moving train in a desperate attempt to escape. They landed in a relatively soft sand bed and made their way North toward Union lines. For a little bit more than two weeks, Vaughter and his fellow prisoner (a man named Tom) evaded contact with civilians and possible pursuers. They traveled on foot by night, following the North Star as a guide, and slept in watches during the day. They foraged for what little food they could find. Hungry, dirty and physically spent, they were captured near Columbus, Georgia. Vaughter was detained briefly in a jail in Columbus, Georgia then he and other captured men were taken by railroad car to Camp Lawton at Millen Junction. Afterward he was transferred back to Andersonville. In the spring of 1865 as Union troops were drawing near, Vaughter was transferred to Lake City, Florida. From Lake City, the prisoners would eventually be freed. They followed the railroad tracks east toward Jacksonville where they eventually met Union troops. After the war, Vaughter became a preacher in Iowa. His story was told in the book Prison Life in Dixie written under the pseudonym "Seargeant Oates."
My father, Emanuel Daugherty baptized Carl Cossin (1922 -2014) when we lived in Columbus, Ohio. Carl became a good friend to my family and to me. When my high school history teacher assigned us to interview a military veteran, I went straight to Carl. He had served in the 10th Mountain Division and saw serious action in Italy in World War II. After the war he re-enlisted and was a Sergeant in A Company of the 21st Infantry stationed in Japan. Carl and his fellow infantrymen were among the first American troops on the ground in Korea when the Cold War suddenly became hot. They arrived in Korea on July 4th 1950 and were thrown into battle on July 6th. Heavily outnumbered and with no tactical support, they were little more than speed bumps trying to slow down the enemy advance until more troops and heavy equipment could arrive. After a brief fire fight, Carl's rifle company was captured and many of his friends were killed. Carl and his fellow prisoners were lined up and one by one they began to be shot by a squad of North Korean soldiers. Carl and another prisoner decided to make a run for it before they were killed. Carl became separated from his fellow escapee and he made good his escape. He spent a harrowing two weeks on his own behnd enemy lines, evading contact with civilians and enemy soldiers. This was not an easy thing to do since he was a tall well built American, unable to blend in with the surrounding population. Upon capture, Carl was beaten then collected up with other prisoners and taken on a "death march" to a prison camp on the Yalu river near the Korean and Manchurian border. Ninety-six Americans died on that march as wounded prisoners and those who could not keep up were taken out of line and shot. In a firm, honest way he told his story in his book Raw Guts. It is a story of survival. Surviving the brutal condtions of winter in North Korea with temperatures often 20 degrees below zero; at times sleeping on the ground with just the clothes they were wearing; in prison camp sleeping on hardwood floors with no bedding of any type. The prisoners endured many beatings and often faced psychological torture with threats of shootings. Surviving as he lost weight on the small and insufficient rations allowed by his captors. Carl spent 37 months as a prisoner of war in 4 different North Korean and Chinese camps enduring near impossible conditions. Skills he had learned in his training as an elite soldier in the 10th Mountain Division; skills he had learned in combat in World War II, and even skills he had learned as a poor farm boy growing up in West Virginia enabled Carl to survive.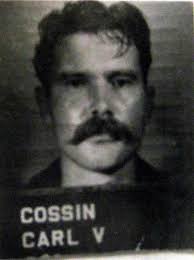 Our freedoms and the comforts of life we enjoy but often take for granted are possible because of Veterans like Vaughter and Cossin. Be a proud American and thank a Veteran this Veterans Day. And always remember, true life and freedom from sin are possible because of the sacrifice of Christ.