INHERITANCE
Bruce's Beat 5-02-2020
I have never been present for the reading of a will, but from what I have heard, it must be an exciting, even surprising time for those who gather in the lawyer's office. Perhaps no reading of a will could have been more surprising than Anne Scheiber's after her death at age 101 in January 1995.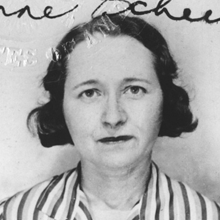 Scheiber was the dictionary definition of frugal. Part of the "greatest generation" who endured the Great Depression and lean times during two World Wars, she never bought any furniture, she always wore the same cheap coat and hat. She rarely bought a newspaper. Most of the time she would read the Wall Street Journal at the local library where she could read it for free. She had earned a law degree and passed the Washington bar exam, but she worked as an auditor for the IRS in Manhattan and lived on an annual salary of $3,150. She retired in 1943 living on her modest retirement pension and Social Security for the next 52 years.
But during her career in reviewing the tax returns of others, Scheiber had studied how those who left substantial inheritances to others had invested their money. She began studying the stock markets and invested in common stocks. She took a $5000 nest egg and turned it into a $22 million dollar fortune. At her death her stock portfolio had increased more than 4000 times. Her lawyer said that she was right on her investments 99% of the time. She never enjoyed the fruits of her earnings. Dividends and cash were always re-invested in tax exempt mutual funds and bonds. At her death, she had no family, so the entire fortune was bequeathed to a New York City university to be used for scholarships and loans for female students. She had never attended the school and no one there knew her.
But there is an inheritance far more exciting, far more surprising and far more valuable. "Blessed be the God and Father of our Lord Jesus Christ, who according to His abundant mercy has begotten us again to a living hope through the resurrection of the dead, to an inheritance incorruptible and undefiled and that does not fade away, reserved in heaven for you, who are kept by the power of God through faith for salvation ready to be revealed in the last time. In this you greatly rejoice, though now for a little while if need be, you have been grieved by various trials, that the genuineness of your faith, being much more precious than gold that perishes, though it is tested by fire, may be found to praise, honor, and glory at the revelation of Jesus Christ, whom having not seen you love. Though you do not now see Him, yet believing, you rejoice with joy inexpressible and full of glory, receiving the end of your faith – the salvation of your souls." – 1 Peter 1:3-9.
What an inheritance! No money, property, or assets. What does this say to the preachers of the health and wealth gospel? But there are things worth more than silver and gold. This inheritance will not corrode, decay, or rot. It is tax free! It is kept in a place safer than Fort Knox. It has abundant mercy, a living hope, a security from God Himself. It is salvation of the soul which allows for indescribable joy even during fiery trials.
The most surprising thing about this inheritance? It is made available for everyone! The inheritance of the kingdom of Heaven that is for those who are born again of the incorruptible seed, through the Spirit, through the living and abiding word of God which is preached to all creatures. – 1 Peter 1:22-25. The Savior who went to the poor, the marginalized, the outcasts of His world, leaves an inheritance to all who will come to Him.
I have never been present at the reading of a will and most likely never will be the recipient of any earthly fortune. But in the last day, I will receive the inheritance promised to pilgrims and strangers. How about you?