History of Shawnee Church of Christ
By Pearl Charles
At one time, the Walnut Street Church of Christ was a Christian Church. A man whose name, I think was Frank Maple had written a book called "Maple's Lectures." (His name was actually Otto Delton Maple. His book was published by Fred Rowe. - bd) In it he explained clearly, with scriptural references, why instrumental music should not be used in worship services. The book also gave scriptures for all the beliefs of the Church of Christ. After listening to his talks and reading the book, several members were convinced that some their activities were wrong and the church split. Those who left bought a church building on East Elm Street at the top of the hoill near where Elm and Orchard intersected. I don't know who all those people were, but I know the Anguish, Hiles, Butterfield and some of the Bentley families were among them. Later, several families moved in from West Virginia. The men worked for the Preston Oil Company and they lived near New Straitsville (Gore, Orville, and Greendale). They had been previously members of the Church of Christ and drove to Shawnee to worship after moving to Ohio.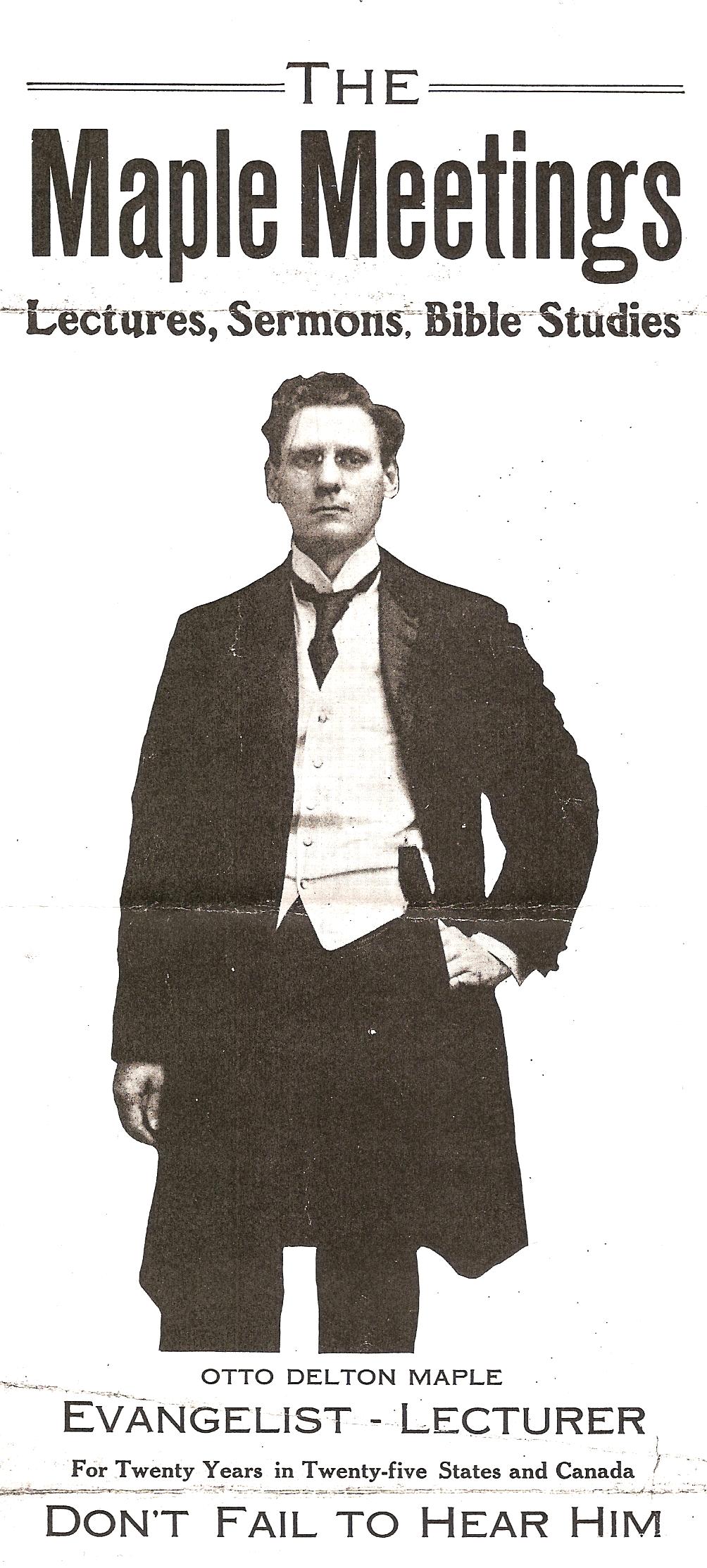 My sister, Lillie Hiles, and I are the only ones in this area who would remember about the two churches and neither of us remembers the dates. I was born in 1920 and I know we were still going upon the hill in 1932 when I was baptized. While our church had a fairly large congregation, the Christian Church membership declined. As far as I know there were only three active men left. All three were married, but none had children. The men met with the elders of the Church of Christ and said that they were willing to remove their piano if the two churches would unite and the mane would be Church of Christ. Again, I don't know the date, but it was probably around 1934.
I have pictures of the Elders of the combined church, and some that had been taken of the building up on the hill. There was a belfry on that building and the bell was rung before each service.
One amusing incident I remember from that building was: my Dad was the janitor for the church and one evening after everyone had gone, Dad locked the door and went home. Nearly an hour later, someone knocked on the door at our house. It was Ray Morgan. They had gotten all the way home and realized one of their boys was not with them. He and Dad went back to the building and found the boy still sound asleep on one of the seats.
At one time where there were no men to do the song leading, Emmeline Gill would sit at her seat and give the number and start the song.
The only people I remember from the Christian Church were:
William and Maud Moore
Purl and Hattie Arnold (She left her house – the one by the park – to the church when she died.)
James and Estella Phoenix
Jenny Fetters and her mother Dot Pargeon (Dot was a twin sister to Maud Moore.)
The Bentley sisters – Christine Winter, Jane Bishop, Martha Bishop, and two unmarried sisters.
Elders for the combined church were:
Frank Anguish, Harry Anguish, John Gill, and William Moore.
Deacons were:
Ray Morgan and David Hiles.
My mother's copy of the book, "Maple's Lectures" was given to my son, Tom Charles.
There was no Baptistery. We had baptisms in the same pond we all swam in during the summer. These were always at night, and the men would park their cars so that the headlights shone one the water.
The old church building on Elm Street was sold and the building was torn down by Elijah Bentley.
Members I can remember:
Leroy and Mary Anne Anguish (my grandparents and the parents of Frank, Harry, Earl, Howard and Otis Anguish, Sylvia Hiles, Mary Harrold and Rose Butterfield).
Frank and Mary Anguish and children Doward and Mildred.
Harry and Lola Anguish and children Evelyn and Violet.
David and Sylvia Anguish Hiles and children Leona, Edna, Andrew, Lillie, Pearl, and Leota.
Elijah Bentley
Sam West and family – one daughter was Pearl Howdyshell.
John and Emmeline Gill and children Ruth, Blain, Ralph, Mildred (Shuttleworth) and Wade.
Ray and Laura Morgan and eight children.
Sam Baumgardner and wife with two children.
Cassius Closten and wife with three children.
Charles Eddy family with four children.
George and Emma Butterfield with three children.
Tom and Rose (Anguish) Butterfield and two daughters.
Ethel Butterfield White and four children.
Otis and Eva Anguish and four children.
Tom Butterfield became a well known preacher. His wife Rose died in a traffic accident. He later married again, and had two sons, Tom, Jr., whom you may have heard of, and Bill. Both boys are preachers.
Ralph Gill had a book showing the finances of the congregation. Mildred Shuttleworth may know what became of it.
This article was copied from:
"Shawnee Reflections Upon the First 125 years 1873-1998"
Christian Church and Church of Christ (page 31)
The Christian Church was founded in the 1880's and a substantial wooden church was built on Walnut Street adjacent to the old Town Hall. Little is known of the early church. In 1936 the members of this church voted to merge with the Elm Street Church of Christ if all agreed the combined church would meet in the Walnut Street building.
The Elm Street Church of Christ appears to have been formed around 1917. The group met in the former Primitive Methodist Church building. Members of the Church in 1917 were L. H. Anguish, Mary A. Anguish, George W. Butterfield, Emma Carrie Butterfield, Ethel Butterfield, Charles W. Purdum, Mary A. Purdum, George W. Purdum, Harry E. Anguish, Lorena Susan (Lola) Anguish, Andrew J. Hiles, David Hiles, Sylvia Hiles, Henry Frank Anguish, Mary Anguish, Doward Anguish, and Vera C. Gladden. After the 1936 consolidation, the building on Elm Street was abandoned and eventually torn down.