G. W. Varner
1839-1921
At the turn of the last century, the gospel in the upper Ohio valley was carried forward by a generation that sacrificed mightily for the kingdom of God. Insights from the lives of these individuals should inspire each of us to do more for the cause of Christ. One of those inspirational men was G. W. Varner of Pleasants county West Virginia.
George W. Varner was born March 7, 1839 in Monongalia county West Virginia. His youthful days were spent in West Virginia until his parents moved to Belmont county Ohio when he was grown. In Ohio he met and married Angelia V. Daniel on March 27, 1867. Afterward Varner and his new bride moved to Pleasants county West Virginia which was his home for the rest of his life. To the union of George and Angelia seven children were born. (Martin, 4)
Varner was one who embodied the wise admonition, "Remember now thy Creator in the days of thy youth" (Ecclesiastes 12:1). At the age of 14 he became an avid student of the Bible, especially the New Testament. This was an especially important achievement, since Varner had very little formal schooling. Despite this lack of education, Varner had been blessed with a logical, inquiring mind. This would serve him well in his later years of preaching and debating. Varner obeyed the gospel as a young man and was baptized by Solomon Devore. (Clovis, 6).
Varner began preaching at the age of 45. Most of his preaching was done in his native West Virginia and in nearby Pennsylvania and Ohio. Varner supported himself by working manual labor jobs during the day and preaching the gospel at night. Through this method he was able to "build up the cause in destitute places." (Martin, 4).
Varner was self taught in the Scriptures. He would spend his resting moments from his manual labors to read and study his Bible.
Years ago when he was physically well and strong he would haul sawlogs
all day, often in rain and slush, and go home at night, sit in front of the fire,
and while his clothes were drying, he would be studying the Word of God.
Often his sturdy hand held the plow handle all day. When he would stop
to rest his team, he would be reading his Bible while the team rested.
(Martin, 4).
His knowledge of the Bible was so thorough that seldom was a concordance needed when he was present at the assemblies of the Church.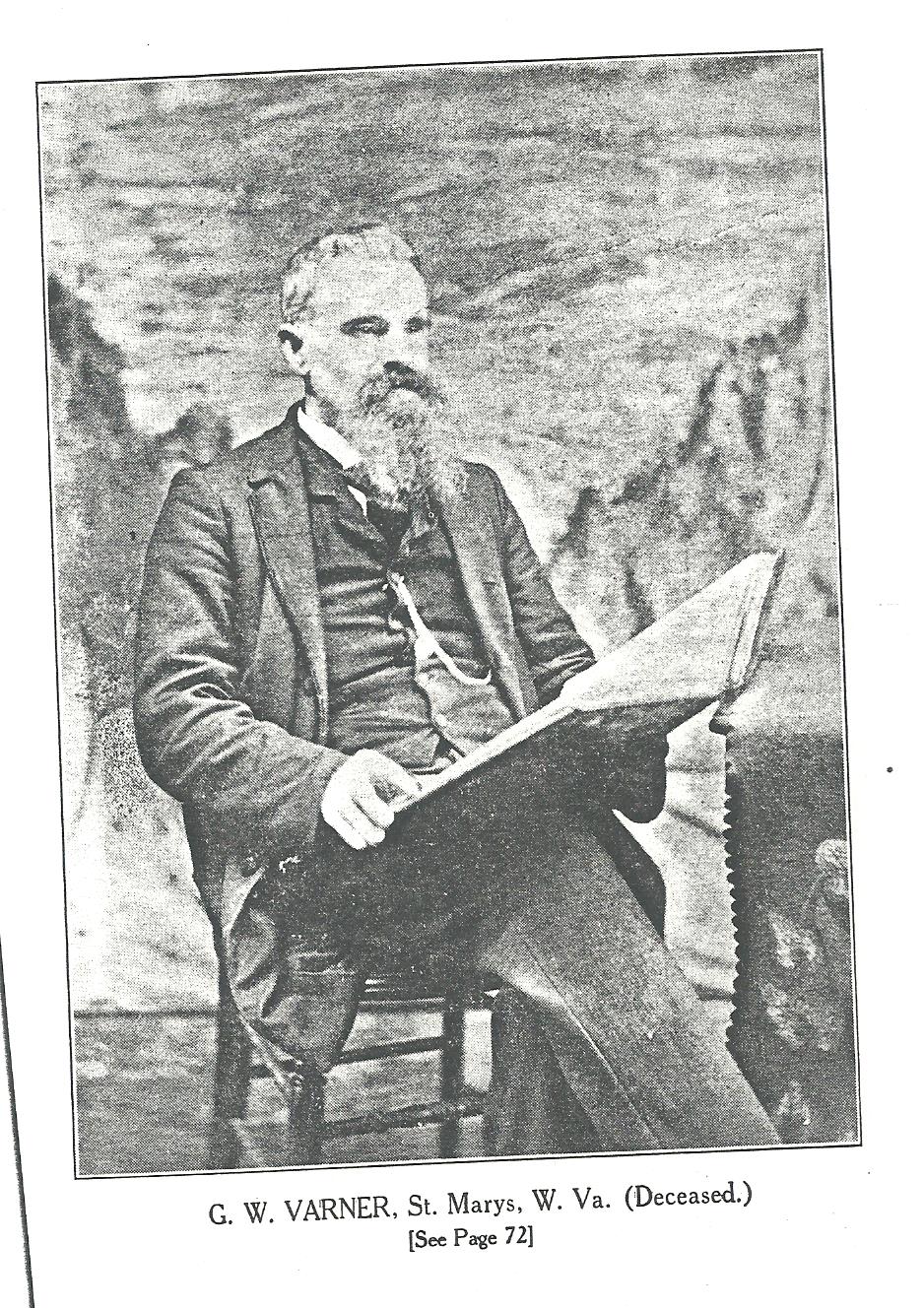 In the time period in which Varner preached, gospel preachers were often challenged to debates during their preaching. Varner did not back down from these challenges. His knowledge of the Bible gained from hours of study and his logical mind trained to think allowed him to be "set for the defense of the gospel" (Phil. 1:16). He was able to so completely expose the fallacies of his opponents that John F. Rowe called him, "The little Napoleon of the Valley." (Directory, 72).
Varner lived a long life and his "golden years" were crowned with peace and honor. After the death of his wife, he resided with his daughter, Mrs. Mary Clovis whose husband was one of the elders of the Dewey Ave. congregation in St. Marys, West Virginia. Little children as well as grown ups lovingly called him "grandpa." (Martin, 4). He filled in at St. Marys for T. Q. Martin when Martin was away in meetings. Varner's last sermon was preached at St. Marys on his 82 birthday and his subject was "Eternity, or the Home of the Soul." (History, 72). He died on June 15, 1921. He was buried in the Cloverdale cemetery whose meeting house was near his former home. Varner's nephew, C. E. Fogle conducted the funeral service along with T. Q. Martin. Ira Moore, senior editor of the Christian Leader paid this tribute to Varner:
I had known him for thirty-six years, and in that time heard him preach many
times and always with profit. He was not educated in the schools, but learned
by reading, hearing and observation until both his oral and written speech
were almost without defects, grammatical or orthographical. His Bible
was his constant companion, study and thought. He was a great fireside
instructor as well as an effective teacher in the pulpit, and an agreeable
friend to all. (Moore, 4).
Articles Cited
W. E. Clovis, "Sketch of Bro. G. W. Varner," Christian Leader 2-5-1918: 6.
1931 Directory of the St. Marys, Wv Congregation.
T. Q. Martin, "Grandpa," Christian Leader 7-5-1921: 4.
Ira C. Moore, "Editorial Views and Reviews," Christian Leader 7-26-1921: 4.