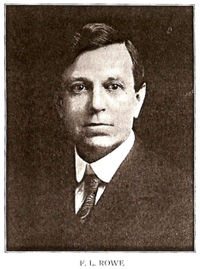 Fred L. Rowe - Owner and Publisher of The Christian Leader
by Bruce Daugherty
No man's life was bound with the Christian Leader more than Fred Rowe. For nearly 60 years Rowe's hand guided the direction taken through the turbulent waters of the times and the competing currents of a complex fellowship.
Frederick Louis Rowe was born in Akron, Ohio on December 27, 1866, the youngest of five children born to John F. and Editha Mary Rowe. His father, John F. Rowe, was an important preacher and editor in Ohio. The elder Rowe's final years came in the difficult days of division in the Restoration movement between those desiring "the ancient order of things" and the "new order of things" as he saw them.
In 1887, at the age of 21, Fred Rowe moved to Cincinnati to assist his father in managing the Christian Leader. Cincinnati was Fred Rowe's home for the rest of his life. When his father died in 1897, the financial and editorial responsibility of the paper passed to the young son. Though the nature of a religious paper was different, his earlier newspaper experience in Akron proved to be invaluable in his management of the Leader.
When John A. Klingman came to work with the Cincinnati church in 1910, he often turned to Rowe for counsel.
It was my good fortune, while laboring in the Cincinnati Mission Field, to be
closely associated with Brother Rowe. . . . I spent some of my happiest days, as an
evangelist, in my association with Brother Rowe. I went to him with problems con-
cerning my church work, and he often talked with me about the fiery trials of a
managing editor of a religious journal. (Klingman, 2).
As an individual, Fred Rowe was noted for his generosity. He helped many a young preacher build their library, selling books at bargain prices or over time. John Nosker paid this tribute to Rowe: "It was once remarked that he would spend three cents to thank a brother for five cents worth of business." (Nosker, 6).
In addition to his work with the Leader and regular preaching appointments at Withamsville, Rowe served on the board of Directors for both the Potter Orphans' home and the Tennessee Orphans' home. He often made appeal for their support through his columns in the reader. (Rowe, 9).
No missionary in the period had a greater friend than Fred Rowe. The mission reports of nearly every single missionary supported by churches of Christ found their way to the Christian Leader. Rowe not only kept his readers informed of missionaries and their needs, but he used the Leader office as a receiving center for any reader who wanted to send funds to missionaries. Rowe sent the Leader free of charge to every missionary in the field. (Vincent, 10).
Business reversals during the Depression era left Fred Rowe lonely, poor, and bitter in his final years. A variety of health problems added to his difficulties in preaching and managing the paper. Fred Rowe passed away on Monday, August 12, 1947. He died from complications following a broken leg suffered in a fall while visiting his old friend T. Q. Martin.
Working under less than ideal conditions, Fred Rowe built a strong, conservative paper favoring Christian benevolence, education and mission work. Though Rowe has been dead for more than half a century, his legacy lives on in the books and paper that he published.
Works Cited
John A. Klingman, "Biographical Sketch of Fred L. Rowe." Christian Leader (8-12-47): 2.
John L. Nosker, "To a Bereaved Brotherhood," Christian Leader (8-12-47):6.
Fred Rowe, "Do You Love Children?" Christian Leader (5-2-33): 9.
C. G. Vincent, "Tributes to Bro. Rowe," Christian Leader (8-12-1947):