Pioneer Preachers - Jacob Creath, Jr.
by Emanuel Daugherty
(originally presented at Memphis School of Preaching lectures - 1986)
The Early Years - His Birth, Childhood, Conversion, Home-life and Piety
The subject of our study is Jacob Creath, Jr., born in Mecklenburg County, Virginia, January 17, 1799 to William and Lucretia (Brame) Creath. William Creath was raised and educated in godly home to Presbyterian parents, but was baptized inot the Baptist church in 1787. After his baptism, he studied at the feet of John Williams, an ardent Calvinist, who was later to dissociate himself from the Baptists in favor of the church of Christ. One note about the preaching of William Creath: A deist of his acquintance once remarked that "there were but two things that could make him cry - the one was shaiving with a dull razor, the other was hearing William Creath preach." A member of Congress observed that "he was the only man he ever heard who could deliver a three hours' speech without saying somethng that was not worth hearing." (Donan, 41-43).
Jacob was the second of sixteen children. Contrary to popular belief, he was named after his uncle Jaocob, his father William's younger brother, who was himself a faithful and respected preacher of the gospel. Jacob Jr., had the general school of his day at the feet of his godly mother and local teacher named Jones Gee from whom he made progress in reading and spelling, and also acquired the art of writing at an early age. He was also taught to use a plow handle and to drive a wagon at an early age. He maintained his work on the farm as he grew from juvenile to adult. (Donan, 47). During this period, Creath would study at night by the light of a blazing brush pile, while during the day his only opportunity for study was while the animals were resting or feeding. In this manner he read and studied the New Testament. When he was 22 years old he began a study of English, Latin, and Greek grammar and theology under the tutelage of Abner W. Clopton, a professor and physician at the University of North Carolina. From 1821-23, he was a student at columbia College, Washington D. C.
After the manner of religion of the day, he believed that people must pass by Mount Sinai and hear a certain amount of its thunder, before they could possibly catch even a glimpse of Mount Calvary. They were instruted that "they could do nothing; and yet that they would certainly be damned, unless something was done." "I strove as hard to observe the laws of Moses as though I had been a Jew."(Ibid.). He ardently desired to become a Christian, but he did not know how to become one.
Creath continued in a bewildered state of mind as he sought to secure the favor of God. Dreams of the judgement and being numbered among the elect to perish terrified him. Such was the fruit of Calvinism. While attending a Baptist association meeting in April 1817, Creath determined to end the mental anguish he was undergoing, and asked for the prayers of his father and the other preachers in attendance. The fervent prayers for his salvation gave assurance to those in attendance, but Jacob was not that confident. Soon after, he was approached about being baptized. Seeing his hesitation, his father said, "Arise and be baptized and wash away thy sins, calling upon the name of the Lord." Jacob then agreed and as he came up out of the water he said, "I possessed what had never befallen to my lot before, the answer of a good conscience toward God." (Donan, 52-54). Later, he would say,"Had I been told to believe on the Lord Jesus Christ, repent, and be baptized for the remission of my sins, I could have been a Christian at ten years of age, as easily as at seventeen." (Donan, 48).
Creath was of a serious nature, and this disposition brought out a temper that was sometimes difficult to hold. Yet David Lipscomb wrote of him, "I heard but a few preachers that could present the gospel with more simplicity, tenderness and love." (West, 118).

He moved to the region of Central Kentucky preaching among the Baptist churches. During this period he became acquainted with men such as Racoon John Smith, Philip S. Fall, John T. Johnson, and Alexander Campbell. Not long after, he was expelled from the Elkhorn Baptist Association for "favoring the adoption for their infallible stand, of the Bible alone." (Donan, 82). From this time forward he was numbered with the Reformers.
At one time he preached in an old outbuilding, with no fire and it was extremely cold; the audience stood and shivered, but he baptized several and even had to break ice to do the baptizing, after which he had to walk three quarters of a mile before changing clothes. He said, "After laboring thus for ten days or two weeks, the magnificent sum of three dollars was presented to me by a generous community!" (Donan, 140).
Creath married Mrs. Susan Bedford, a widow of Bourbon County, Kentucky, in 1831. As a family, the Creaths worshiped morning and evening by reading the Bible and offering prayer and thanksgiving and praise. He maed a personal practice of reading the Bible through each year, and over the course of his life time he read the Divine book more than fifty times. During times of sickness or family distress, they worshiped three times daily, morning, noon, and night, as per David in the Psalms. (Donan, 105-106). In 1833, a cholera epidemic swept through Lexington, killing from 500 to 700 people in the vicinity. Creath said that he and his family had it, but none died as he took great comfort in meditating on Psalms 91 and 46. (Donan, 92-93).
His piety and devotion is seen in the following incident, recorded during the Civil war, which was especially bloodthirsty and brutal in Missouri, where Creath was then preaching. "On one occasion, during the War between the States, a company of troops was encamped near Palmyra, intending to capture the city. Creath went out to the grove to pray and the leader of the troops happened to be near. He edged closer to the grove and listened as Creath prayed for his neighbors, his town, and for peace. The next day the troops withdrew without any attempt to capture the town. (West, 124).
Creath and Controversy
Perhaps none among the pioneer preachers was more outspoken against human organizations and error than Jacob Creath. Errett Gates said, "The first serious internal controversy arose on account of the organization of the first missionary society." He then went on to say, "The first leader of the anit-missionary element was Jacob Creath, Jr." (as cited in Hailey, 152-53). Creath objected to the missionary society on the grounds that it was a departure from the plea which had characterized the disciples from the beginning, and that Alexander Campbell had shifted from his position in the early days of the Christian Baptist, when he had written against human associations and societies. In an article to the Millennial Harbinger, Creath argued that the authors of the missionary society were now advocating what they had formerly condemned among the Protestant sects; "they have not produced one passage of Scripture, to countenance these assemblies, from the New Testament." (Hailey, 154). He further argued, "Because God our Father divinely commissioned his Son to our world, and his Son sent the apostles as missionaries to the world, and they divinely organized individual congregations all over the Roman empire, in the first century, does it , therefore, follow, that we in the nineteenth century, without any divine warrant and contrary to our own rule of faith, have the right to call conventions, form Bible, missionary, and tract societies, elect popes, and do all other things we wish? My logic does not run that way. They had divine credentials for what they did. We have none for what we are doing. That is the difference between them and us. We are bound, as well as the early Christians, to spread the gospel. They did it without conventions; so can we do it without them, and have done it." (Hailey, 155).
In reply to an argument that the majority of the brethren accepted the society, Creath said, "As to the argument offered to sustain these associations that they are acceptable to our brethren, we would say, that they have been unacceptable to them until recently. What has produced this change in them? What new light is this which has sprung up so recently upon this subject? I confess I have no more light now, upon the subject of assocations, than I had twenty-five years ago. Will these brethren who have been so recently and suddenly converted from their former faith upon this subject, furnish us with a small protion of the new light, that we may be converted too? I believe that the calves set up at Dan and Bethel were popular with Jeroboam and the ten tribes. The report of the spies was acceptable to all the Jews, except Caleb and Joshua. The pope is very acceptable to the Catholics; so are creeds and clerical conventions to all the Protestant parties. But does all of this prove that they are acceptable to God?"(West, 202).
He further demanded that Campbell produce apostolic authority for the use of societies and conventions to do the work of the church. "You say that our Savior and the apostles did not denounce conventions, as such? Did they denounce Popery or corrupt Protestantism, as such? Did they denounce infant baptism or creeed making or auricular confessions, as such? It is for you to show where they authorized conventions." (West, 203). Regarding the consultation meetings in Nashville in 1877, Creath advised David Lipscomb to watch them closely, saying, "Our hope is that our Arguseyed editors of the Advocate will watch this consultation creature, as they did the one at Murfreesboro some years ago. . ." (Ibid.).
With regard to instrumental music and other innovations, Creath was adamantly opposed and so stated: "The tendency of all such things (modern music in churches, prizes, fairs, etc.) is to promote two parties of divisions among us, then ultimately to throw the blame of the split upon those who have strictly adhered to our Rule." (Hooper, 142).
In the year 1858, Dr. Robert Richardson publsihed in the Millennial Harbinger a series of articles on "German Neology and French Philosophy." Creath did not care for these articles and wrote to Campbell requesting he stop Richardson from writing further along that line, lest he wreck and ruin the Harbinger. Campbell stopped Richardson, but Richardson always resented Creath's interference. Later, when Richardson wrote his monumental Memoirs of Alexader Campbell, there were few mentions of Jacob Creath. Creath wrote to Richardson asking why. He never received an answer. (Donan, 215).
Summary and Assessment
Because of his temperament and adamant opposition to liberal innovations arising in the church, Creath's work has been largley ignored by the more liberal Restoration writers. Toward the end of his life Creath wrote: "Many of my acts, tribulations and trials must remain written in dust till the day of judgement. These memoirs are a very imperfect sketch of them. I have never received much credit from men for what I have done and suffered. They have written my faults in marble, and my virtues in the dust. I hope God will do me just in the great day." (West, 125).
The antagonism against Creath is seen in the story found in West's appendix to Donan's account of Creath's memoir. "In 1887, when Jacob Creath Jr., had been dead one year, T. P. Haley was busy collecting infromation for his history of the restoration movement in Missouri. He wrote to E. C. Browning, then preaching at Palmyra - Creath's home for forty years-to get information. Browning discouraged giving Creath very much prominence, complaining that he was a one sided man. He reported that Creath left a mass of material intended for a biography, but urged that it never be written. Philip Donan had written his life of Creath ten years earlier, while Creath still lived, but Browning complained that it should have never been written." (West, 14).
Jacob Creath Jr., is one of the greats among the early pioneer preachers. His work and godly service will always be remembered and appreciated by those who love the truth. Two years before his death, Creath wrote out his own obituary. He requested his wife to have no funeral service since neither Christ nor his apostles had any, and that he be bured in a plain, cheap coffin with his New Testament and a copy of Campbell's Living Oracles as his pillow. He died on Saturday morning January 9, 1886 at seven, and was buried according to his own request. Upon learning of his death, John F. Rowe, then editor of the American Christian Review wrote: "Jacob Creath was the 'Iron duke' - the 'Duke of Wellington' - of the Restoration as to faith, and firmness, and inflexibility of purpose. He would neither be bought nor sold. He was made of such stuff as mrtyrs are made of." (as cited in West's appendix, 16).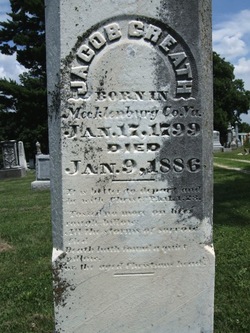 Works Cited
Donan, Phillip. Memoir of Jacob Creath, Jr. Indianpolis: Religious Book Service, reprint of 1877 edition.
Hailey, Homer. Attitudes and Consequences in the Restoration Movement. Rosemead, CA: Old Paths Book Club, 1945.
Hooper, Robert E. Crying in the Wilderness: A Biography of David Lipscomb. Nashville: David Lipscomb College, 1977.
West, Earl I. The Search for the Ancient Order, vol. I. Indianapolis: Religious Book Service, 1949.